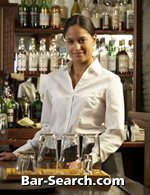 New Additions!
Hadfield's Bar & Liquor Store
Naknek
, AK
907-246-4441
Checkers Pizza Plus
Lock Haven
, PA
570-748-7777
Charlie's Bar
Gibbon
, MN
507-834-6192
Flatheads Bar & Grill
Saint Anthony
, IA
641-477-8300
The Office Tavern
Fort Wayne
, IN
260-478-5827
Pastime Tavern
Lacrosse
, WA
509-549-3608
Razzoo
New Orleans
, LA
504-522-5100
Art of Sports
Chicago
, IL
773-276-7298
Perma Bar Technology Inc
Lincoln
, NE
402-421-7845
The Chophouse Restaurant
Gillette
, WY
307-682-6805
Selecting your Beer
Do you have a hard time making a decision on which type of beer to order when you're in the local bar or pub? There are certainly plenty of options to choose from, particularly a large number that hail from around the world. If you're traveling you may find yourself bombarded with an eclectic selection from which to choose. The next time you sit down to the bar, why not be adventurous and try something a little different? You might be surprised and find that you acquire a new taste.

American Beer:

American pale ale is a lot like British pale ale. The exception is that American versions tend to have a higher hop bitterness flavor. The color ranges from a rich golden to a light pilsner.

American double IPA is a hyped up version of India pale ale. Most of these beers will offer a balanced, robust, malty taste but tend to run less malty than barley wine.


German Beers:

Altbier were brewed in Germany long before lagers. Altbier tends to run somewhere in between British brown and dark ale.

German Pilsner Beer is an extremely popular style of lager beer. It offers a very light golden color. The head should be rich and dense.

The bock beer is stronger than the average lager. There are several different styles and types of bock beer.

Schwarzbier is a German black beer. These beers, ironically enough, tend to actually be lighter than you might anticipate. They provide a refreshing drink.

Hefeweizen originated in Germany. This is a wheat beer that is far lighter than most traditional dark beers. Generally, they are carbonated and are crisp and refreshing.

Oktoberfest beer is a Bavarian German Beer typically drank at the Okterberfest celebration. This beer is an amber lager that is dark/copper in color and has a light hop profile.

British Beer:

Real Ale and Cask Ale are often associated with Britain. This is a bottle beer or draught that has been brewed and fermented in the same container from which it is served. Traditional ingredients are used in the process.

Another beer commonly associated with the UK is Porter. This beer is aged for several months, sometimes even longer than a year. A blend of new ale, old ale and weak ale.

Stouts also tend to be associated as English beers.

Belgian Beer:

There are over actually some 500 beers that are native to Belgium. Belgian beers are typically top-fermented ales that are bottle conditioned. Most contain yeast sediment. A few Belgian beers worth considering include:

(Oud Bruin) Old Brown- These are light to medium bodied

Wit (white) beers- brewed with malted or unmalted wheat and malted barley and are typically cloudy.

Red Beers, typically light bodied with a reddish-brown color.


Irish Beer:

Of course, Ireland is often known for their beer and with very good reason. A few Irish beers worth ordering the next time you visit a pub include the following:

Dry Irish Stout-a very common Irish beer

Cask Ale-Often considered to be Irish as well as British

Guiness-Very popular, a stout beer


Mexican Beer:

While we might not typically think of Mexican beer, many of the types of beer brewed in Mexico have some relationship to European beers. These ties include Export Lagers, Vienna Lagers, Pilsners, etc. These beers are commonly light in both color and flavor while offering a malt sweetness. They make a great beverage for hot days.

Finland Beer:

Sahti is a common type of Finnish beer. It is actually a very complex brew that is not hopped in the traditional manner. A baker's yeast is used in the brewing process.